Well, I have not been very active on my blog over the last couple of weeks, and I won't be for the next few weeks - my husband's practice is moving, and I'm very involved in making sure it goes well. I sometimes pretend otherwise, but I really do provide the backbone - my accountant said the other day that when I took over the mess I was left, I have worked in a consistently professional manner to sort things out. Not my favourite thing...But
And in three weeks time I will be back studying.. and working towards my goal :)
With all this background stuff going on, I decided to plan the sewing projects for the next few weeks and dedicated yesterday to cutting out muslins.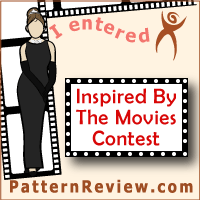 The first muslin I will make is one for the next
pattern review challenge
which is called "Inspired By the Movies".
Well, were do you start in a challenge like that??? Pattern Review gave a list of sites to get started, so I found something in their list. As I have to keep to the spirit of the contest, I thought that was the safest thing to do!
Having always like French New Wave realism, I decided that I would make the following top, worn by Jean Seberg in Jean-Luc Goddard's film
"Breathless".
There is a whole stylistic convention behind costume decisions in French New Wave Realsim, that draws on earlier conventions of Realism. I'll talk about that a bit when I do the post for this garment - I can't wait, I have a degree in Drama and Screen Studies!
In this film, Jean Seberg wore what she thought was appropriate for the character (ref: stylist.co.uk/fashion/45-iconic-fashion-films).
(My comment - this is also a convention that arose from the acting tradition).
Jean Seberg wore breton tops, chinos and ballet flats, a look that we are all so familiar with.
I'm wondering how pattern review will interpret everyday garments as being in the spirit of the challenge - but I think I can defend my choices with my academic knowledge base!! And this picture was in one of their recommended sites...
And, realism and the everyday feed into the Hollywood movie tradition as well, albeit in a very different way. And costumes in films very much also inform and influence what we wear in everyday life.
I am still a novice with making up knits, so I have decided this challenge will also develop my skills in this area. I will use Kwik Sew 3766:
And I have in my stash the ideal fabric:
This was an expensive cotton/polyester mix knit that I found at Spotlight. As I do not want to cut out the wrong size for this garment, I am actually going to test the style and fit of the pattern first by making a muslin out of cheap polyester knit:
You can also see some other fabric in there - I had a very busy muslin cutting day yesterday, knowing that I am not going to have time to dedicate to sewing over the next two weeks -
So I decided to cut a muslin for a pair of trousers. It's time to start planning sewing for Autumn, and I thought I would use up some lovely stretch poly viscose crepe from my stash. I am going to try a Style Arc pattern:
I traced the pattern - I am using size 6 - which will fit in the hip but will be nowhere large enough for my midsection. I also have a high rise, and do not like pants sitting at my fullest part, which is were a lot of "natural"waist pants now sit. So I have made a lot of alterations, and I need to test these in a muslin. The blue fabric is cut out as the muslin!
Muslin busyness didn't stop there yesterday. I also cut the muslin for Vogue 1316, my first draw for the lucky pattern game.
This garment looks full in the hips, and I am not. I want to test the pieces and see how they all fit together before I even think about how to alter this to fit. There are strange drag lines on the picture above - it looks as though it needs pulling up at the sides - I dare say the model has straight hips as well, and is not filling out the garment.
So, I have plenty of muslin sewing to keep me busy. I find that sort of sewing very useful in times that are not so conducive to sewing. Mistakes don't matter, and you still work towards your goal.
And of course, I have the Little White Dress to sew - it's all cut, and is quite straightforward. As it is light in colour, I will be able to sew that in the evenings.
I do have some tee shirts to blog about - I made a set - this was a real learning curve in how to deal with knits that don't want to be sewn. The first attempt turned into a two hour session of removing and testing needles on different machines! I found ballpoints did not want to work, and not all stitch settings would work - although recommended for knits. But I won:
And I have some tee-shirts to show you another day. As we are going to the office this afternoon to sort out moving things, I won't have time to do the photos. I promise I'll show you later though... And right now, I need to do the week's ironing.
So, if you don't see much of me for the next week or so, I will be back...with lots of garment news:)
Best wishes with your sewing,
Sarah Liz :)