Sometimes you have one of those sewing weeks where all you attempt to make are want to be wadders.
I know there are some sewers out there in the blogosphere that always turn out perfect garments every time.
Perfectly.
I am not one of those sewers.
I have my up and down sewing weeks.
I suspect I am in good company :).

And I run an honest blog, where I share my successes and failures - because we all feel better knowing we are not the only ones that have less than optimal sewing weeks.

*****
I guess I should have known better than to even attempt sewing this week as I had a lot of chores to do, and fragmented sewing time is not always a recipe for success.
I need a couple of hours each week to totally concentrate on planning, pattern modification and cutting.
Then I can work in a fragmented fashion.
Anyway, this is the story so far this week:
Unfortunately I lost this time this week due to the unfortunate incident occasioned by DH, who accidentally poked me in the eye. It was painful and didn't settle, so I realised after an hour or so that he had actually scratched the eye and I had an abrasion.
It was red and painful. I knew what the problem was, and knew what to look out for, so decided not to have it looked at on a Sunday. The main risk was infection and scarring, but I thought the scratch was in a safe area from how it felt.
On Monday, it was more settled, but still not good with use, so that was Monday's sewing time gone. I also couldn't go to work as I was photo-phobic and couldn't use the computer. Or read more than two columns in the paper without problem. Or sew. Frustration!
So I sorted out my patterns, which have been scattered in baskets through the house and put them all in a filing cabinet - previously I had only filled one drawer, but now there are two filled and only two neat baskets of patterns in my sewing space:
By Tuesday my eye was feeling much better (thank goodness) and I decided to make a muslin for a dress I thought I liked, Vogue 1400. Then DH cheered up enormously, because he had felt rather bad.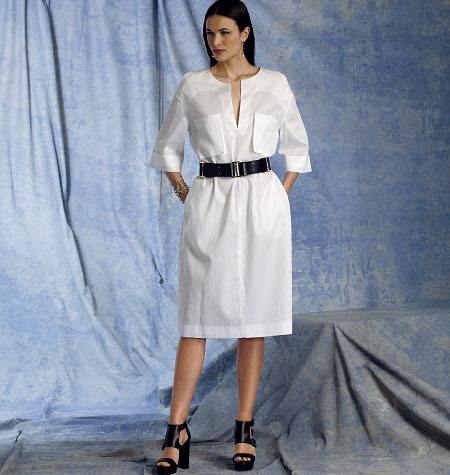 This was a weird dress with sleeves detached from the shoulder. Now, I am not a lover of exposed shoulders on me. It can look lovely on some people, but it is not a look that I like for me.
It was also shaped like a big round bag - it actually has a curve going out from bust to hips. I have a waist that goes in.
So I decided to alter the pattern a bit, and took the sleeves up to the shoulder, and took in the waist.
I made a calico. It still looked like a bag. I belted the bag. It looked like a belted bag.
Very unflattering. I know I have made two loose house dresses this year, but they at least were sort of flattering for what they were.
This wasn't.
I also think the style is just not me.
So, I binned the project.
While I was at it, I also binned the idea of making Rebecca Taylor's colour blocked dress, Vogue 1316:
I had made a calico a few months ago, and when I reviewed it this week, decided that the problem was there was far too much busyness in the seaming and in the colour blocking to look good on my figure. It is also far too dramatic a style for my taste. I think I just had sewing blog fever when I bought this pattern (luckily for $5.00, not $28.00 - and the same for V1400).
So, both of these have gone in the bin, and I feel a surge of relief that I don't have to bother with these dresses again.
That tells me something.
That tells me to choose styles I like and that will be flattering on me.
So, I decided to make Burda 7201, a dress I have long liked, and it got my Mojo excited:
I had a piece of fabric in the stash, and it was just enough for this dress. Just enough, not a millimetre to spare.
I pre-washed the fabric only to find this flaw when I ironed it:
Not only that, but I found little discoloured marks along one edge, as if bleach had got in the water. I berated myself over this, as I had used bleach to clean the sink, but this was in a bowl that had no bleach near it. Nevertheless, I assumed I had been careless.
So, I couldn't make the dress after all. So I decided to be positive, and make the top instead.
That evening, while checking that I could perhaps get the top out with all the flaws to avoid, I turned the fabric over to find this:

It wasn't me at all - the dye problem is quite obvious on the back and actually runs in a line that the camera isn't quite showing - you can also see all sorts of other areas.
By now I was getting extremely frustrated. I pinned all the flawed areas that I could find, and then cut out the top without making my usual muslin to check fit and so on.
Only to find when I started sewing it today that I had forgotten to cut the back of the garment.
Now this had turned into the Top that Never Was. The Mojo was not pleased.
Of course, if I had been more patient, I would have made a muslin and this would never have happened.
You live and learn. Only to live and learn again when you skip a step, or sew when tired and frustrated.
So, all into the rubbish bin.
Moving right along (as I do) I then decided to tidy up a little more and rethink my position. I don't feel like starting anything today because it will probably be jinxed.
The new position (rethought, and probably said many times before ) is that I will always muslin first - just to catch errors with fit, or even missing pattern pieces!
As a final note to this sad and sorry saga, I decided to toss all my old muslins that never eventuated into garments as they did not fit, needed work, I lost interest, learnt what I needed to learn, or whatever.
It's a good feeling tossing out things are redundant. I now have one calico left, which is the only one I want to play with.
Doesn't that look better?


I am now ready for a brand new sewing week, where, as we all know in sewing land, there is happiness ever after, perfection reigns, and there is no such thing as a wadder.
Have a great week everyone, wherever you are :)
Sarah Liz