I made this little top some time ago from a leftover piece of fabric after I had made a dress from it. I have not yet blogged the dress - that will be blogged next weekend.
I decided to make a wearable muslin from Vogue 9085: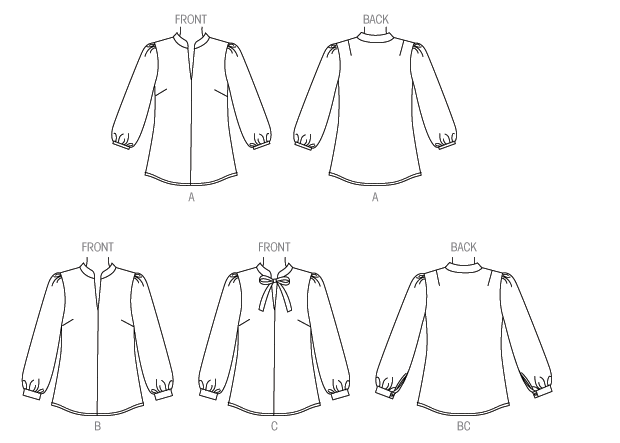 This looked a fairly straightforward top, and I quickly made a toile out of an old sheet. I cut size M for the body as I like quite a bit of ease especially as I will probably wear this over a long sleeve t-shirt in winter. For the neck, armhole and shoulders I used size XS (4-6). I only had enough fabric to make the shorter sleeve version (A), so that is was I made :). I also took off 4.5 inches from the length as this was a tunic length top, and I wanted a blouse length top. The minimal fabric sort of also decided the length :).
The calico looked as though it was an okay fit in the neck and shoulder area so I went ahead and cut out the top and made it up. The fabric I used was a rayon twill, with a large and asymmetrical pattern. I did not have much, so it was hopeless trying to sort out any sort of aesthetic placing of the pattern - other than the back, where I did place a central line of pattern.
I did not like the central seam line with my strange pattern placement, so I added buttons down the centre front to try and distract the eye and give some purpose to the centre front seam.
I'm pushed for time today, so I will just quickly post some pictures to show you the finished top:
As you can see, the front shows quite awkward pattern placement, but as this was more a wearable muslin, and a bit of wearable colour fun. I am not going to let it bother me, but will enjoy the top for what it is.
You will also see that the sleeves are quite wide - again, I decided to cut them as the pattern suggested, to see what I thought of them. If I make the top again, I will probably take some of the fullness out.
You will also see that the hemline at the centre of the top seems to flatten out - I checked the pattern pieces and it does flatten out. The line drawings also show this section as straight across. The centre front seam also tends to pull this area up a little as well. Next time I will round the hem down at the front.
From the side you can see the top drops down at the back. I need to do a narrow and erect back adjustment, but I don't tend to bother on these little unfitted tops that tend to move around quite a lot. And with high low hems still popular, I figure this dip just looks fashionable :)
And back view - I did manage to put a central line of diamonds down the back - but as you can see, the pattern is asymmetrical either side, and there is nothing I can do about that! This was also why I did not worry too much about pattern placement for the front or sleeves, not that I could anyway, with a minimal amount of fabric to work with.
You can also see the slight flattening of the hemline at the centre back, but there is no centre back seam so the hemline is not further pulled up.
If I make the top again, I think I will narrow the shoulder a little bit - although I think my floppy fabric is also contributing to the floppy shoulder line. Although size 4-6 should be fine, I think these shoulders sit too wide on me - it could be the open neck causing this. Anyway, it doesn't worry me - this is a fun, happy, colourful top and I really am not going to let floppy shoulders interfere with my enjoyment of this top.
Because I rather like it, flaws and all. I don't mind imperfection, because I am not perfect either :).
Happy sewing everyone,
Sarah Liz