Hello everyone,
It might be hard to believe from my smile in the photo above that I am tired and irritable, but in reality I am tired and irritable! You see, I went away for a week, and I always find that
1/. You are flat out busy before you go away doing all the things that have to be done.
2/. You are flat out busy while you are away, in my case sometimes doing things that had to be done.
3/. You are flat out busy when you come back doing things that have to be done, plus all the catch up washing, plus get back to work.
4/. And sewing has to be even more fitted in around the edges of life, and while away has to, horrors, be stopped completely.
And, if that was not enough, I am an introvert and get very tired and irritable when doing a lot of things that make extroverts sing for joy.
So, I am tired and irritable! And my photos are a little careworn looking - especially as I did not pay much attention to detail, having tired myself out cleaning up the back garden and carport and other jobs like that. I just came in, threw on a new white tee, found some me made pants, and threw on the subject of this blog post, my new cardigan-ey sort of jacket. And my hair is sort of a bit wild, after being worn under a hat. That's Saturday at my place, not a place of high glamour.
The pattern I used was New Look 6351: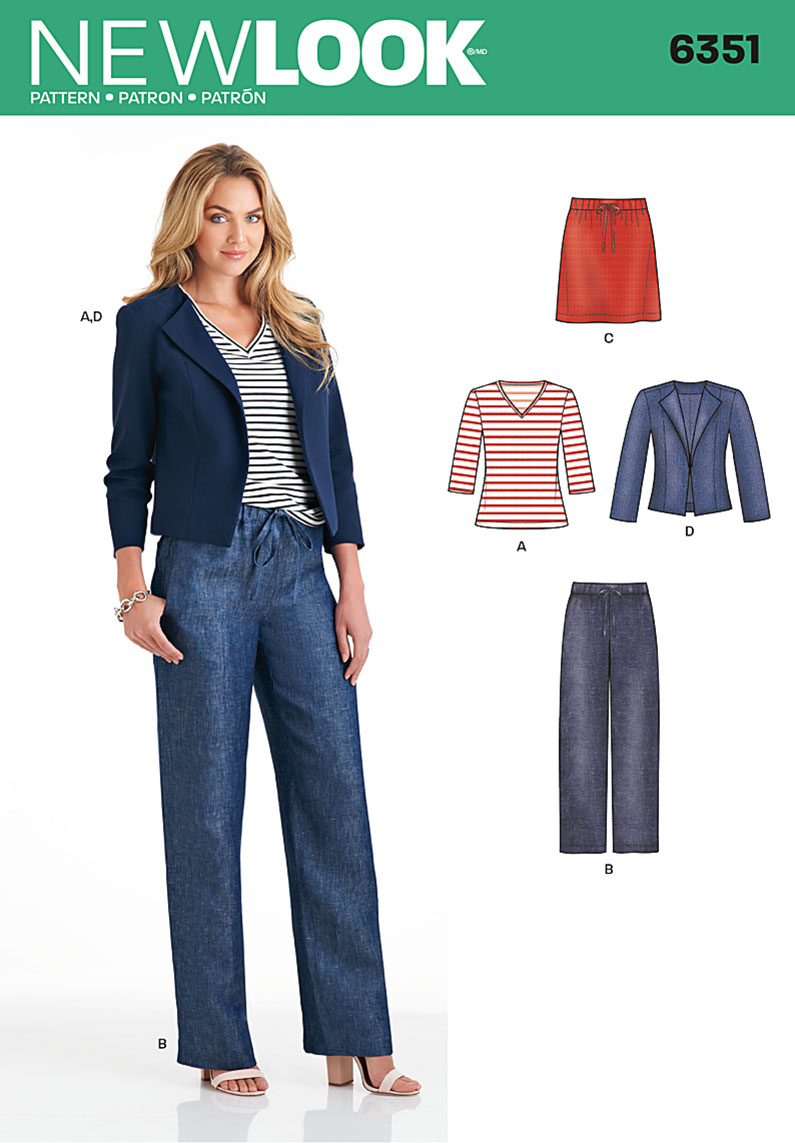 This had been lurking in my stash for at least two years, and I really wanted to make this up before it sort of went out of date. As often happens with my stashed patterns. Last year I made a muslin out of a woven fabric, and did not like the way it sat. At the same time I also made a muslin out of some leftover soft polar fleece. That version sat a lot better.
I had a remnant of unbrushed poly-cotton fleece (Spotlight) and used this to make the jacket. I cut size 10 around the shoulders and arms, and 12 for the body. I added 1.5 inches to the bottom of the jacket as it was just a little too cropped for my liking. I added 1.5 inches to the sleeves - I had to do this by adding a small extra band to the sleeve - but I have not taken a photo of this.
The pattern was pretty basic as far as sewing was concerned, so I added a few details of my own - namely, false flat fell seam at the front, and I also top-stitched the collar turn back, back neck and front. It just looks more finished. The pattern suggested understitching to the corner of the collar, but this would just have looked awful when turned back, so I understitched the back neck edge only before topstitching.
Inside, I just caught with a few stitches in the ditch the front facings down with a few stitches in the ditch at a couple of points down the front. I also tacked the neck facing down at shoulders and at the centre back - the facing wanted to flop out at the back, and as I had a back seam, I just did a neat stitch in the ditch to anchor it. I overlocked all seams and edges, but found that my overlocking just did not look fantastic around the armholes, so I bound them with nylon raschel lace. I added a hook and eye closure to the front as suggested by the pattern, but it just kept unhooking itself, so it has now been removed. I think I would use a loop and button for a closure if I made this again.
As for the back seam - see above and below, I topstitched either side of the seam to hold the seam in place. I then coverstitched the hem. Now, I am still getting used to the coverstitch, and while I carefully measured the hem and tacked in place, I noticed that I had gone on a bit of a wavy ride. Now, normally I am always manipulating fabric as I sew, and do a lot by eye/hand co-ordination and not by measurement. And because I was thinking measurement, I forgot to roll the centre of the hem down - so it measures less inside, but looks great on the outside when sewn. Sewing is often about little bits of pushing and pulling, but they don't teach you that in the books. So, I did it the way we are taught - measure. And this was the result:
I hummed and hahhed about this for a while, then decided that I could live with it. I knew that undoing a finished and locked coverstitch hem would take quite some doing and in the doing I would likely make a hole. I decided against that, and as this hem does ride up quite symetrically (see, I told you I measured perfectly inside!) into the seam, that I would call this a deliberate design feature. The sleeves are also a bit wobbly for the same reason, but as I have already mentioned, I forgot to take picture of the sleeves.
And, for a hack jacket made out of a $2.40 remnant probably worn for chores and for quickly popping out to shops, bank, etc, I am quite pleased. You have to learn new techniques on garments - yes, you can do samples, but until you work on a real garment with real seams and lumps and bumps, you are not going to know what to do. I have mastered coverstitching hems on t shirts, but going over a bulky centre back seam is new to me. So, I have learnt something - all for the price of a pattern, some thread, and a $2.40 remnant.
I nearly forgot - I should show you some pictures of the jacket - as usual, the back - (and as I don't have a stylist or photographer, I usually find my clothes have moved in between running back and forth to reset the timer on the camera )- the side, and front. Unfortunately, the collare rever's do not show much in the photo, dark navy blue being no more helpful in showing photo detail than black.
Before I go, I know this little learner garment will be much tougher than a little cardigan I bought last year that I thought would be okay for the garden and chores. Well, it's already got a hole in it, after about two wears.
So, wavy hem and all, I have a little me made wardrobe winner, I think.
Got to look on the bright side, even when you are tired and irritable...
That's it for now, take care everyone,
Sarah Liz