Back Blogging: The Saved Top, Artwear August.
Yes, I am looking pretty pleased with myself. That's because this little knit top was a save from a garment that I made that I did not really like, and that at the last moment I cut a hole in while trimming back the neckband seam. Yes, quite accidentally, but deep down I was quite pleased because I would not have to wear a top I did not really like.
The original plan was to make a Marcy Tilton knit top, Butterick 6218:
This was also my challenge top for " Make a Garment a Month Artwear August ".
(

For those of you that don't know, Make a Garment a Month is a monthly sew-a-long that I facilitate both on Facebook and Instagram. ).
I planned to use a leftover piece of black combed cotton jersey, a small piece of purple combed cotton jersey living in the stash, and I purchased a small piece of midnight blue combed cotton jersey ( all combed cotton from Spotlight).
I made the colour block version of the top. I cut size 8 - and the finished measurements for that were 40 inches bust - in a knit!!! The neck shape was really strange - a semi circle front and back. I always make sure the neck fits over my head - and test the band before I sew it on as well. Let's say it was a firm fit, unlike the look in the photo. Maybe this was because I cut a small size, but I have never had a problem like this before. As it was, I found the top way too voluminous and didn't really like the tail at the back. I was relieved to finish it, and was trimming away the excess fabric after finishing the neckband the pattern's way - and I hate this method - when, snip, I accidentally cut the fabric of the garment.
Secretly relieved that the top was now ruined, so I would not have to wear it, I pondered what to do next. You see, I hate wasting fabric. I looked at the pieces, and thought I could recut the front and keep the asymetrical look and button band. I recut the back out of the rest of the black leftover fabric, along with the sleeves. I used my favourite T-shirt pattern, Kwik Sew 3766.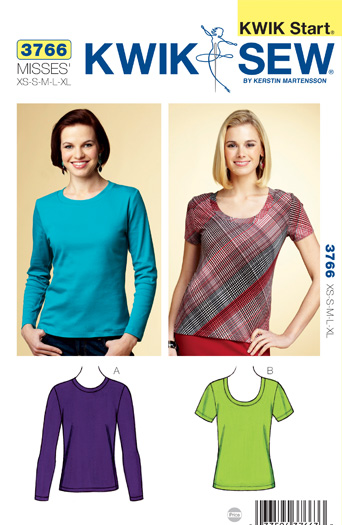 I added blue sleeve bands, recut from the top to tie the garment together and make a three quarter sleeve for spring and autumn wearing.
I also became very familiar with my coverstitch with this garment, using it wherever I could. Except the new neckband, cut from polycotton ribbing. I overlocked this on, and then zig zagged the seam down. I am not yet confident about doing neckbands with the coverstitch, I will need to do some practice runs first.
Close up of mock opening :
Inside the hem - narrow two stitch coverstitch - and I managed to even cover the hem!
Sleeve band - I used the coverstitch for the seamline double top-stitching effect and for the hem:
The buttons - five happy buttons, I always re-use the buttons from my husband's shirts.
And now, pictures of me wearing it, as usual, a Front, Side and Back view:
I
think this is a smart looking knit top, much better for me because it is much more my style. Only, I would not wear a longer sleeve top like this with thongs - I took all my back blogging picture on the same day, and it was quite warm. I just wanted to get the photos done, and as you all probably realise, I only show the garment, not how it would be worn, or "styled" as they say now, in my everyday life. I really should start taking some real life pictures of me made garments being worn.
That's it for now, next week I will be back to show you what I did with the rest of the fabric along with leftover pieces.