Back with BURDA 7646.
It seems weeks since I last blogged, because it has been weeks since I last blogged. I have been really busy recently and also very tired. The two probably go hand in hand. And the tiredness really shows in today's pictures.
And any social media time seems to have been taken up by Instagram.
And I find that really, although Instagram is quite addictive - and there are sound psychological reasons why this is so, which I will not go into here - I do not enjoy it that much. And it is very intrusive, in it's own way.
But I do enjoy blogging. So after I have finished my current Instagram challenge, I will use Instagram sparingly and as an add to my blogging, not the other way around.
Today I am quickly going to show you my latest make. It's a simple dress made out of a Spotlight remnant of a very fine rayon knit. I think it also has elastane in it, because it is rather stretchy.
I wanted a dress that I could wear on very hot, humid evenings at home. I thought this rather bright remnant would do the job nicely. I chose a Burda pattern, BURDA 7646: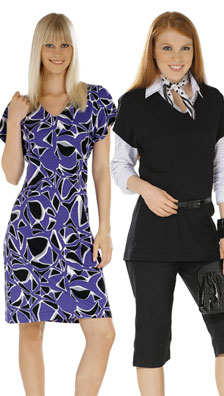 As you can see, it is a very simple pattern, a front and a back. I didn't like the V neckline so changed it to a scoop neckline. The neckline is faced. I wasn't sure about this on a knit, but decided to try it and see what happened. What happened is that it is okay, but I don't really like it. With the fabric I was using though, it probably helps to keep the neckline stable.
While the dress is certainly as shown on the picture, if you make allowances for the fact that the fabric I used is a lot more flimsy and floppy, and for my altered neckline - the dress is just like the picture. I don't think this bright, colourful and large pattern suits me me, but I knew that - but thought it would be perfect for the planned activity. And sometimes it's fun to wear something quite different!
The dress certainly feels like wearing nothing much at all, it is so soft and silky and roomy. I'm ready for that first really hot night - or day, if it comes to that!
It was also the first time I had sewn this type of knit, and I knew I would probably have problems - and I did. I could not sew the facing to the neckline easily - the machine did not like this fabric. So I got out the Coverstitch machine and used a chainstitch for the first time. And I top stitched with the chainstitch as well. First time I have done that, so the results are not perfect, but quite passable.
The seams were not problematic, the overlocker had no trouble with them.
Then I did the hem. I did a sample two thread coverstitch hem and it looked okay. So I then did the hem - and it tunnelled. I played with the tension and this still happened. And the sleeve hems, which go against the direction of stretch, tunnelled so much that I seem to have achieved a pin tuck effect! So I am calling that a unique design feature.
Puzzled by why this had happened, I played around with the machine settings. I later discovered that the differential feed needed to be altered. However, you don't really find examples in books anymore - visuals to show you what various settings do - it's trial and error with these machines.
I am also still having trouble with sewing a hem blind, but that will come with time and practice.
So the dress was a learning experience - which is why I used a remnant piece in a pattern that I was not sure about - so that if the learning experience turned out to be more so, the end result could be binned (or re-used more likely) with nothing lost and much gained.
Now my pictures:
That's it for today, it's nice to be back with you all...
Sarah Liz