Going Dotty - Burda 6671
Hello everyone,
I finally think I am getting back to weekly blogging. It sadly went by the way over the last few months while pre-occupied with things in life. Not that the things in life have disappeared, but are more now a known quantity.
So, I am sorry I have not had time to reply to any of your comments. I should be back doing that this week. I did enjoy your thoughts about social media though - and I am sure this will be a subject for discussion in the future. This week I have curtailed my activity on Instagram, and plan to use it more for chatting to established IG sewing friends and to post blog notices, and of course, to facilitate the Make a Garment a Month Challenge. So blogging will be my preferred medium.
And I think my colourful knit dress surprised you - you are so used to my rather practical sewing. I may have more surprises in store for you in the future...
*****
The photos I took this week are fairly natural I'm looking tired and without my normal twinkle and sparkle- not surprising, since I got up at 0430 today after a thunderstorm well and truly woke me up. I also have lines around legs where I had socks on while doing a few odd jobs outside - I like to protect my ankles from scratches. Sock marks go, scratches in our humid climate are still looking unsightly weeks later as they do not heal quickly. And my hair needs trimming and tidying up - I'm due to go before Xmas. So, hardly model material today!!
But, that doesn't matter, because we are here to discuss
THE DRESS
. My spotty, dotty
Burda 6671: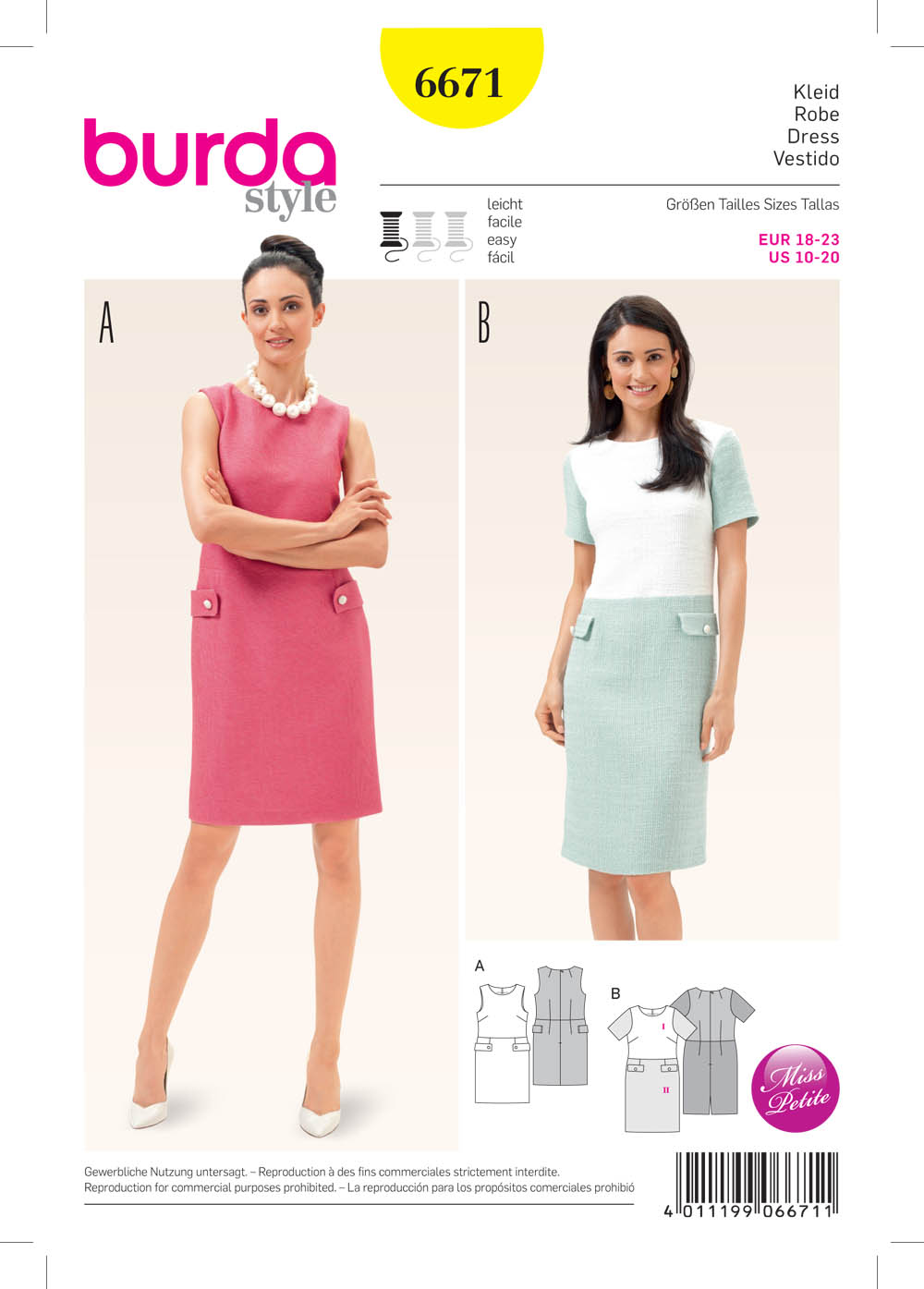 I loved this dress as soon as I saw it and knew it was absolutely perfect for my type of figure. It is also a Miss Petite pattern, and I am about 160 cm, so fit into the Miss Petite category.
I made view B, but used the tabs from view A. The dress is unlined...and I kept it that way, because in our climate, less is more. And this is also the first dress I have made from this pattern, and as such is more a test dress.
I used a cotton poplin, 1.3 metres (112 wide) purchased from Spotlight. It is black with small off white dots. Why I purchased such a small amount, I have not idea. Maybe I was thinking a shirt. But, because I have very slim hips, I can occasionally squeeze garments out of not very much. To help matters, I used a poly cotton facing, and lined the tabs with this as well. A quick lay out convinced me that with some compromises such as using the selvedge edge and losing the odd snip of a corner here and there, I would just about manage. I did take 1/4 inch of the hem and hemmed with a slightly smaller hem allowance. And the sleeves were also cut shorter and the hem was halved to 3/4 inch.
The final dress is half an inch shorter and the sleeves are 3/4 inch shorter. I also seamed the dropped waist seam at about 1/2 inch instead of 5/8 inch, which just makes the bodice a touch longer.
I did of course make a toile. I cut size 38, which is my starting point with Burda patterns. I found that it was too tight over the bust - it was quite a triangular shape - wider over the hips and smaller at the bust. I added extra to the side of the front piece and altered the bust dart slightly, and retoiled the bodice. This worked well, except I had fullness in the back. I removed this by doing an upright, narrow back adjustment.
And, I added pockets (poly cotton) at the side, nestling under the tab:
The dress is fastened by an invisible zip at the back:
Somehow I got that back waist seam meeting perfectly at the zipper!
I did have trouble easing the sleeves in. I didn't on the muslin, but of course poplin is a really firm weave. I pushed and pulled, but still had small puckers in areas. So I undid them - and I hate broken seams at the sleeve cos you can see them if you look hard. But, I was not going to undo what worked, and figured it was more important to look good on the outside. More pushing and pulling - I really pulled hard on the body...and I got the sleeve in perfectly. I have decided not to press it because it sits quite well, and any curved ease is just not going to press nicely, it will also pucker. I know, I have learnt that before with poplin. So if I use poplin again, I will remove just a tiny bit of ease. A looser weave will be fine.
I consider this dress a test dress and as such, is a great success. The colour is not that flattering for me, but if I was not quite so tired, I think I would get away with it! And, the style is Just So Me!
Here are the front, side and back views:
Well, that's it for today, I'll be back next week with one of my large backlog of unblogged garments.
Best wishes for you all,
Sarah Liz