Summertime and the dresses are easy...McCall's 7120.
I say every summer that I need to make some loose throw on dresses to wear on very hot days. Trouble is, I don't like this sort of dress, so I procrastinate on making them. A few days ago, the annual script started again, only this time I pulled out a remnant of rayon and made a wearable muslin.
Now, pull on dresses by their very nature are a bit sack like - they do, after all have to pull on. I wasn't sure which pull on sack like dress pattern I should choose, but eventually settled on McCall's 7120, a learn to sew pattern: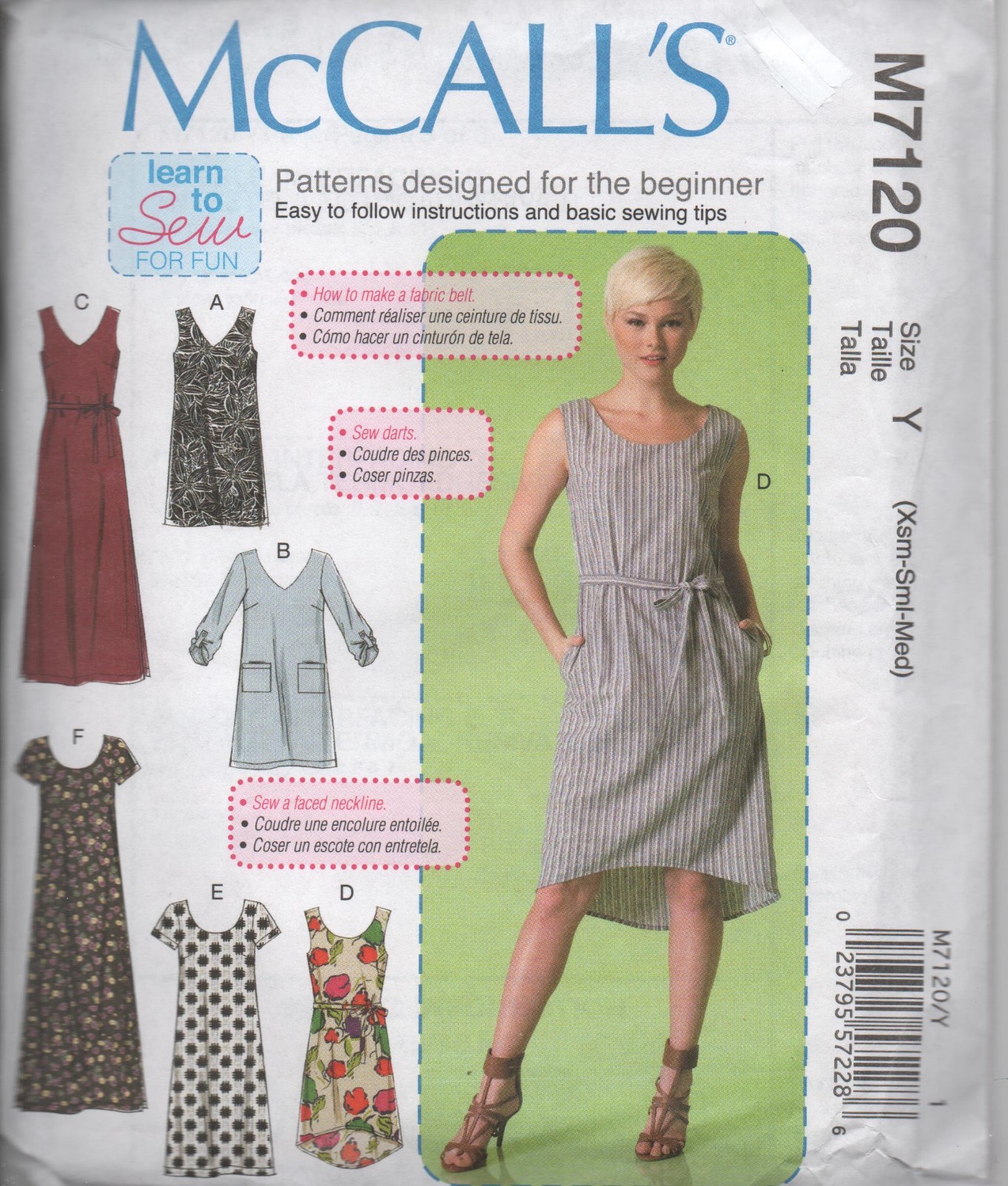 I wasn't sure what size to make, because I do find I need quite a bit of ease across my back - I am quite an active person and also need to be able to bend over fully as I do back stretches during the day or my back will get stiff and sore.
So I settled on my bust size of 34 inches. I did a quick muslin of my shoulder and arm area and established I needed small shoulders. As for the neckline, it was nearly down to my navel. So I spent quite some time altering that - first I made a little neckline shape to make sure that the eventual neckline would fit over my head. It does, with a little to clear. But as you can see from the photos, any larger and it would be too large and slide all over the place.
For the body, I cut size M but altered the bust point in to close to the small point. I chose to cut the dress quite long as the oversized flowal print needed this. I was guided by how much fabric I had, but I think the length turned out about right for the large scale of the pattern.

I cut the shorter sleeve - I needed to cut this on the crosswise grain, as I only had 1.1 metres of rayon (137 wide). Facings were made from scraps of voile and pockets from some muslin I had left from something. They only need to hold tissues so don't need to be too thick and weigh the dress down.

Sleeves are just a tiny bit shorter than the pattern as I had run out of material. But I think this is about right as I can move my arms freely. Any longer and range of movement may be more restricted.
Then I sewed it up - the bulk of the time really was in changing the pattern and fiddling with the neckline. Hems were turned over twice ( /1.5 cm total) and stitched.
As usual, McCall's runs quite large, and the final result is no exception. Still, for a hot and humid day, I think this may be a virtue. We are expecting 40 tomorrow...
Can I go now??? At least I can move and walk briskly in my floral frangipani dress:
Yes, generous and loose and floppy and so cool to wear. I will be ready for 40 degrees and high humidity tomorrow. A really fantastic use of $2.20 worth of a remnant of floral rayon that I didn't really like. I collect remnants for making wearable muslins...sometimes also a nice garment!
As for the pattern, now I have the neckline sorted out, I might make a loose dress again. But I would probably make the Small size. Or look for a pattern that is loose and generous but a little nicer in shape.
I think that a beginner would be very disappointed with this pattern - neck too low, and far too generous in size. But for me, for now, it's a tick off the list...
Take care everyone, it's a busy and stressful time in the lead up to Christmas...
Bye for now,
Sarah Liz
UPDATE: I am wearing the dress today. It is a very hot day (up to 39C already) and the dress is just perfect for the weather. In very hot weather you need really loose clothes, so although my first thoughts were that this dress was too large, it is actually just right for this sort of weather as it allows air to circulate around the body, so sweat can evaporate and cool the body down. Very important in hot climates. There is no cling at all and it is really comfortable!