Hello everyone,
It's lovely to be back blogging. The last few weeks have been very demanding with both of us doing everything in the practice. We do now have a new receptionist (so there were the extra demands of advertising and interviews) and it is still early days and she of course needs lots of support and guidance, but we will get there over the next few months. I hope. And I have got the tax for the quarter finalised, which was a big worry. I have a pile of backwork to do, plus training, but that will get done. Then I can start resuming my life properly - and I am looking forward to sharing my plans with you soon...
Before I go on with this blog, I would like to thank you all for your lovely comments and support on my last post. The first two weeks were very difficult so I thought about you all and your support during that time.
Anyway, lets get on with some sewing. I did manage to sew here and there - very simple things - elastic waist skirts and so on, all made from remnant pieces so it did not matter if I mucked them up.
Having become a little fed up with making elastic waist skirts, I decided to make a little remnant top out of crinkle rayon (purchased from Spotlight) using New Look 6519: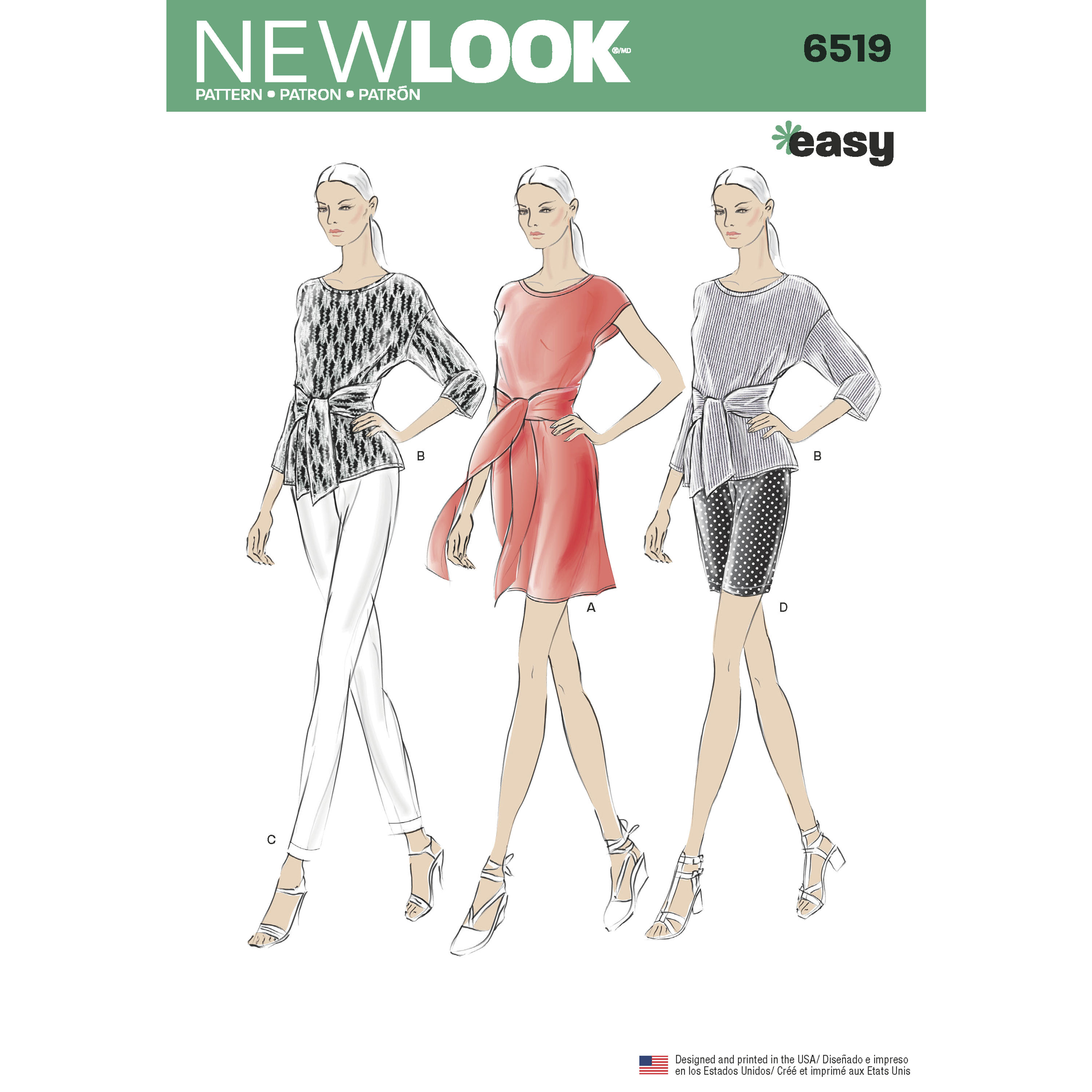 I decided not to do a muslin as it just was not worth it - the remnant was only a $1.60, so I decided that if I mucked it up, that not much was lost.
I settled on size 10. The neckline is curved at the front and a V at the back. I thought I would swing the neck around and have the V at the front. As soon as I cut the top out I staystitched the neck edge. I seamed the shoulders. I put the "neckline" on, only to find it sitting somewhere out near the shoulder bone. The neckline at the back (the 'front' curve) was very low and looked silly.
At that point I decided to wad the top. But it did not go in the bin, but on my pile of bits that become muslins or are used to save a project - say if you run out of a knit and could do the torso but not the sleeve - this sort of fabric could become a sleeve, in that situation.
Anyway, a few days later, I played around with this "top" again. I decided that just maybe I could save it. Given the demands of life, I was not really into serious sewing, so I decided that just sewing as play for a few minutes a day might just make this top into something interesting. Nothing ventured, nothing gained. So I raided my remnant stash and found a piece of crinkle cotton cheesecloth that really needed to go, because it really didn't crinkle that well. I thought I would use the most crinkly bit for a neckband, and the less crinkly bit for a sleeve band.
So, away I went. I sewed a band on - much like a knit band. I tried the top on, and although it was better, you guessed it, it was still too big. A bit of quick thinking and I thought a strategically placed fold at the front V neck would about fix things:
And it did! It is still a bit low at the back, but given this is a creative save, I didn't mind at all. I didn't do a good job of easing the V into the band, and it is a little puckered, with the centre line not quite at the centre but it doesn't matter that much. I did put a little button over the offending area to detract the eye from from the puckers and slightly off centre.
I think the diamond fold and the button sort of go rather well with the pattern ...
I also made the pants - these were an urgent make, as my casual rayon pants had developed a hole - I was annoyed about that because they were new - I purchased them because I needed them and I was so busy with the practice. That will learn me...
They are a modification of Vogue 9067, a pattern I have made up before a number of times...
I made the wide leg version, but shortened them to about 7/8 length, as I find this much more wearable and less dangerous for going up steps and things - long pants tend to trip you up. Plus this length is slightly more casual and playful. I used a soft rayon fabric with a lot of drape - purchased from
https://theremnantwarehouse.com.au
So, now I have a new, whimsical, at home relaxing type of outfit. Which I like. Because sometimes you need a whimsical, playful, at home sort of outfit. And the soft, floppy, thin, absorbant fabric is ideal for our humid weather, which will persist for a few weeks yet.
Total fabric cost for this outfit was $20.00...plus thread, button and elastic, all from my stash.
Well, that's it for this week, it's so nice to be back blogging - I really enjoy the quiet, sit down, time, just talking about sewing.
And I love that some of you like to read and comment about my sewing - I don't need many followers, but value those of you that take the time to read my blog and comment. Thank you :)
Bye for now,
Sarah Liz