Hello everyone,
Slowly I am getting into a new rythym after the changes of the last few months. My working hours will remain more than last years and there are things that need addressing on the personal front as well. Hopefully by Easter I will have a new routine to life - I really do like a structured and orderly life...that way I seem to achieve what I need to do in life. Ah well, I guess a sewer likes to have some sort of control over things...
I probably won't have time to start replying to your comments again until after Easter - but they are all read and appreciated.
My latest make is a refashion of a pair of black rayon trousers. Last year I bought wide leg rayon pants - I had decided that I really could not face sewing another pair of boring black elastic waist pants. Anyway, two washes and a hole appeared on the inner aspect of one of the front legs. I was very annoyed, but I guess once again that shows the perils of buying RTW.
Now, I hate refashions - too fiddly for me, plus time consuming. But I hate throwing money into the rubbish bin as well, which is effectively what was going to happen if I binned these. So I decided to refashion them. I used a remnant I found at Spotlight, and with that I had enough to make another version of Simplicity 1316: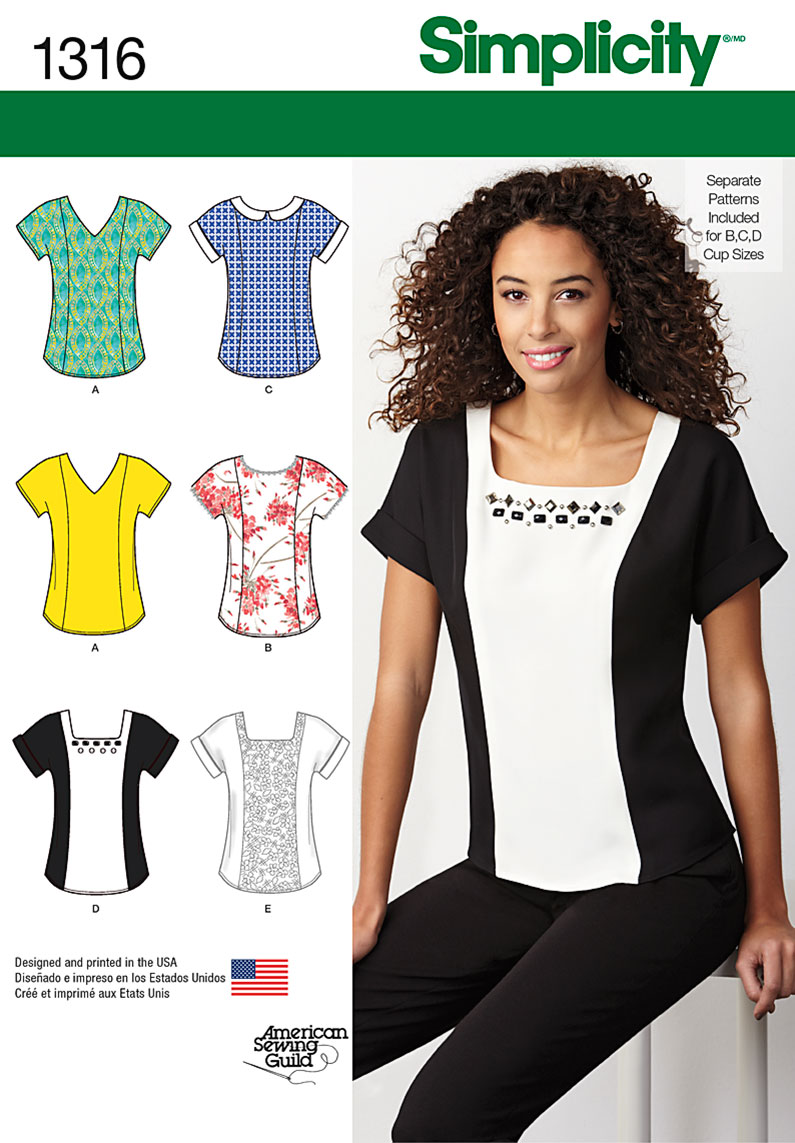 This is a straightforward make, and I really like the shape of this - it is very flattering. I chose the squarer neckline. From memory, I rounded the corners a little more than is on the pattern as they are easier to sew, and I like the look. I also took out about 2cm/1 inch in length.
(if you are interested, all posts about this top
can be found here
...including this one).
I must tell you about purchasing the remnant. I live close to a Spotlight store, so often pop in and see what they have in the remnant bin. I noticed a bright coloured remnant rayon - about 40 cms. I rather turned my nose up at it, thinking it a bit loud and lurid. The next day, I woke up and thought that the piece would be perfect to insert as the front panel into this top - the legs only mananged to do the outer panels. So I snuck the remnant onto the counter, lest anyone see me buy this loud and lurid scrap of fabric. The texture of this rayon was similar to that of the rayon in the pants as well.
(Mind you, I did like the pink and lilac tones in the flowers...the orange and bright green are not quite right for me, but overall, I am amazed at how good this piece of fabric looks. One lives and learns to eat humble sewing pie occasionally...
Because there was so little fabric, and because what I had was almost cut on the diagonal, I could not do a good pattern layout, but I don't really think it matters. The overall finished effect looks okay. I also cut the fabric on the crossgrain as my strip was about 30 cm wide to 45 cms wide ...clever folding and I got the CF on a fold on the narrowest part, and the back, with seam, on the wider part. And of course, navigated the diagonal cutting that Spotlight sometimes specialises in!
This is a straightforward make, and I closed the back neckline with a rouleux loop and button. I find it quicker and easier to make a loop than to hand work one at the end of the sewing process. It's a bit of a pain at the time, but I always remind myself that it will be more tedious later if I don't make the loop early and insert it into the facing.
The trouser rayon though, was a really a nuisance to handle. I think it was worse than chiffon. I found it very hard to get a great hem on the sleeves especially, but the slight distortions and flutters seem to go with the garment somehow.
As for the wearing, this garment is after hours wear. What I think is nowadays called lounge wear. Only, this is also day wear for weekends or any casual time at home. The regional centre in which I live is very "laidback" and resort wear is mostly what people wear. It suits the climate and lifestyle.
Some quick pictures, and then I am off to do what many of us have to do about 6pm. Organise dinner!
Oh, and for those of you who are wondering, yes, my hair is changing colour. I decided last year to return to my natural colour - I started having foils put in as I had early greys. Over time, the foils got more and more, and I was getting blonder and blonder. It was becoming high maintenance and very tedious to have done - plus expensive. I tried doing it myself, but I didn't enjoy that either. So I decided it was time. I changed hairdressers and have been working with the new lady now for some months - we use highlights and low lights, with the objective of reverting to natural over a couple of years. I still don't have much grey, and the streaks I have look very pretty, so it will be interesting to see (to me, anyway) what happens!
That's it for this week, so I will say goodbye for now,
Take care everyone,
Sarah Liz