Hello everybody,
As promised last week, here is the first in my series of simple sew garments. When time is short, I tend to use sewing as a way of relaxing, and I don't attempt complex garments, knowing full well that I will not do a good job with something that requires concentration. I also tend to use pieces from my stash that are remnants, or cheaper purchases - this also removes some of the anxiety one might have about attempting to sew a "good" fabric when sewing time is limited.
This was my most recent make, and probably the most complex make of the last few weeks. Because it has gathered cuffs and a collar, and I made it in a fabric that never cooperates with me when I try to sew it.
It is a totally inappropriate blouse for my way of life, but sometimes I just want to sew something that I want to try and sew. And I really liked the look of the tie neck blouse shown on the main picture of New Look 6471: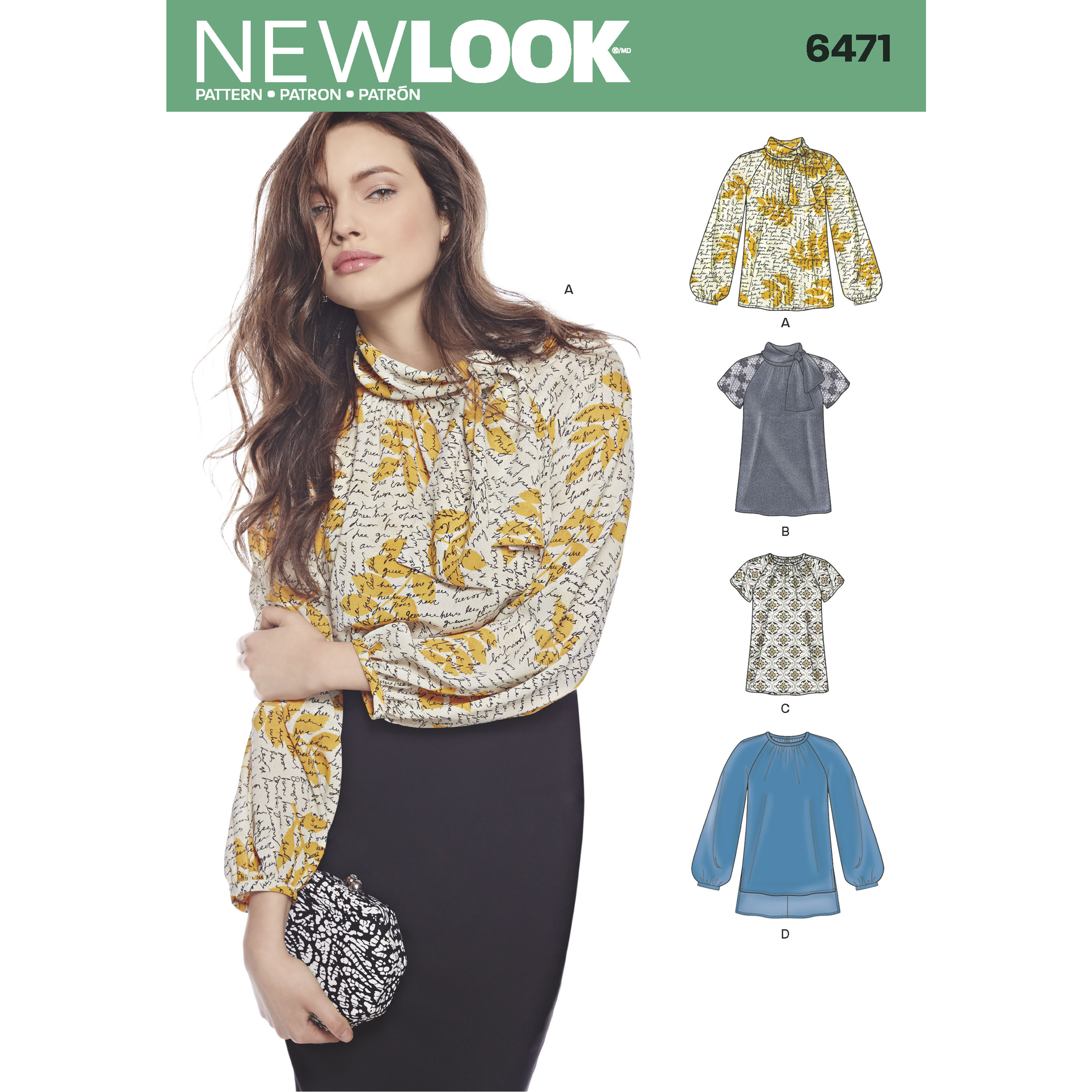 Technical sketch :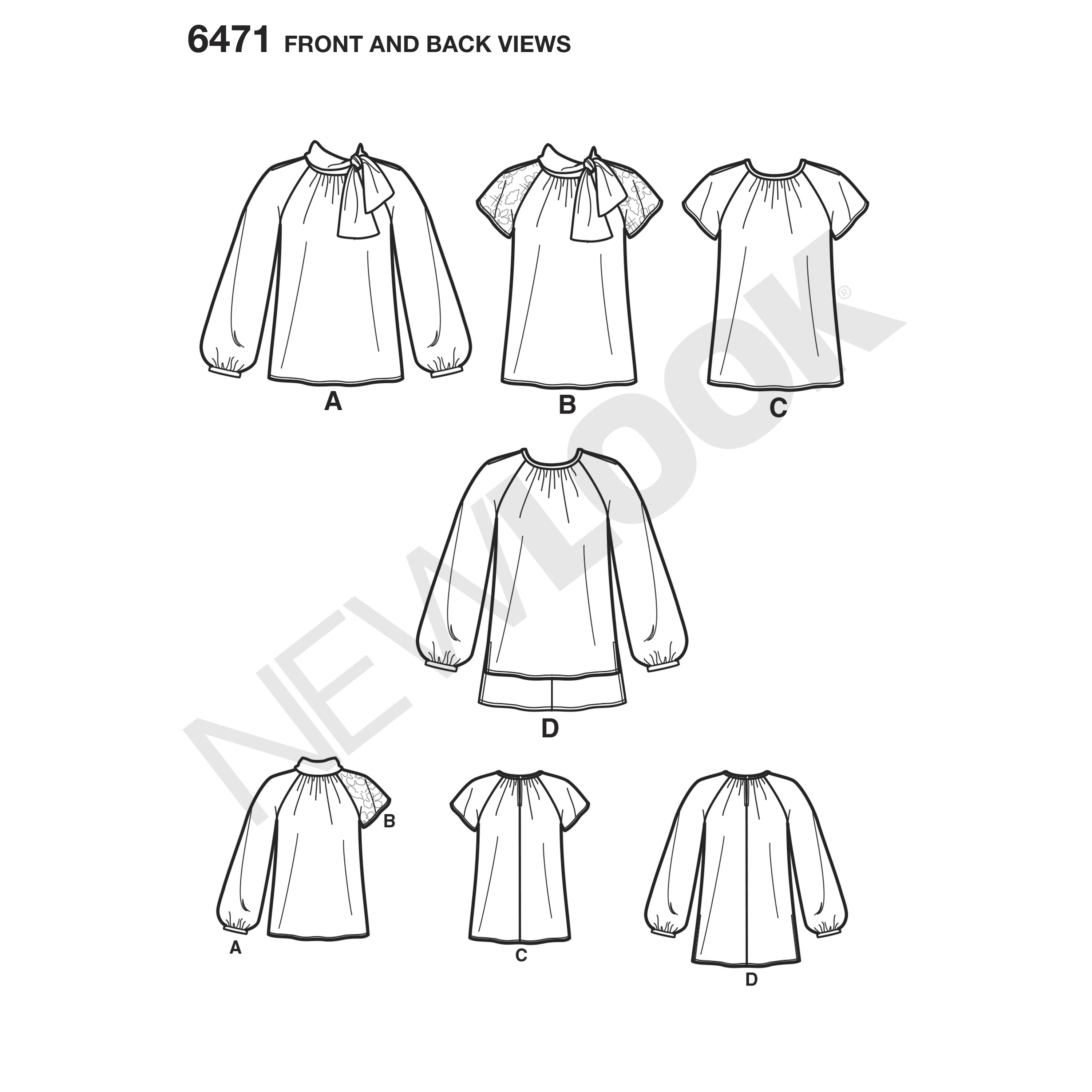 This pattern comes in seven sizes, 10-22. Fabrics suggested are Batiste, Challis, Chambray, Charmeuse, Cotton Lawn, Crepe, Crepe De Chine, Double Georgette, Silky Types, Voile.
I found a crinkle rayon in Spotlight that I wanted to use for this blouse - it was on the clearance table, and was $8.00 per metre, (down from $16.99 per metre). Plus it was a 30% sale day. The blouse needed 2 metres, so I thought $12.00 was okay for a not likely to be worn much blouse.
I made Version A, size 10 (this being the smallest size) with a 12 front. I often do size 8 shoulders, 10 back, and 12 front, but I had to just go with 10. I did not make a muslin - I sometimes don't, and it was obvious this was a loose, unfitted blouse, so I was comfortable with that idea -especially as the fabric was not expensive.
I did not alter the length of the blouse - just in case I wanted to tuck it in. I did make the sleeves about 2.5 cm shorter. I also narrowed them by about 3 cm each side (6 cm total)...I just thought the sleeves were too full for my liking.
The collar/tie was about 1cm narrower overall as I inadvertently found I had cut a chunk out of one side, so had to narrow that side! The collar/tie was meant to be cut on the bias, but I found my fabric had shrunk quite a bit, so I had to do a semi bias. L:uckily, that was the right thing to do, because I later found out, when playing with the wrist bands, that this crinkly fabric does not like being manipulated when cut on the bias. Plus you can't press it into any sort of submission.
(I also decided on cotton lawn for the wrist bands - the fashion fabric is quite a loose weave and also moves a lot with the crinkles, so after two attempts at making the bands in the rayon - and they kept coming out vastly different in size - I settled on a firm weave. Good decision, because I think the contrast works well - and as there is black in the pattern, looks like a design choice).
The blouse has raglan sleeves and the opening is through the front left shoulder, and the blouse only fastens with the tie collar for version A. I am not sure that this is going to hold that well for me, and I also don't like the hole that appears underneath.
I did add a small button at the bottom of the opening seam - to reinforce the seam area. This flimsy fabric would otherwise give way. If you look closely at the above picture, you can just see the little button just under the tie on the left front sleeve opening (look to the right in this photo of course...)
And...to make it easier, here is a picture of the button in close up:
I also added a little bow to the back of the blouse so I can quickly work out how to put it on:
The sewing itself was simple, but the fabric certainly misbehaved. And as for the collar, I could not press it and it did not sit well. After pondering what to do, I squirted it with water, and then blocked it, like knitting - I lay the collar onto a towel and shaped it into place, and gave it lots of encouraging pats and presses with my hand. Seemed to do the trick!
The blouse itself, after I had made it up, was certainly a long, loose and drapey sort of thing. Rather shapeless and sorry for itself, and determined to show the opening:
And the armholes are very low - this might be because of the looseness of the fabric weave, or it might be the cut of the pattern:
However, for all the echoes of Pierrot on one of his sadder days, I quite liked this blouse - under a long cardigan in cooler weather it will work! I also thought it might look better belted:
(Umm, I must remember to straighten things up when taking photos...!!!).
I also thought that I might make it work by tucking it in and blousing it out:
Overall, I am glad I have made this blouse - it was something I really wanted to make. I am not sure how often I will wear it, but that does not worry me. It was the making of this that was important, the getting it out of my system. And if I don't wear it much, the pieces are so large I can always cut another garment out of it.
One thing I have done since I took these photos is to purchase a lightweight, white cotton long sleeve t-shirt to wear under it. That will make this blouse a litte more opaque and will make the opening less obvious. I think having something under that the blouse can grab on to will also help it sit better.
As for making this blouse again, I am not sure - I do like the bound neck short sleeve version, and think that would be much more my sort of style. Smaller, neater, and more practical.
That's it for this week, next week I should be back to replying to your comments!