I try and post on Sunday, but yesterday just did not happen. Not just because I was unlucky enough to get one of my sinus bouts and a very nasty headache and generalised aches, but also because I took photographs inside. Why was this unlucky? Well, I don't know if there was a technical reason, or if it was just one of those things one ascribes to the gods.
It may be due to the fact that we changed over the light bulbs recently and my husband is not really that good at understanding colour and wattage. So the replacement light is now a very gloomy warm white (aka yellow) inside where I normally take photos. Whether that impacted on the focus, or whether in my rather headachey and vague state I did not use the right setting (which would not be difficult given I never know what setting to use in any case- I am just not interested in photograpy and only take photos so I can show you photos of garments I have made...)
So, this morning I decided to venture outside. I think normally I am just too lazy to do this, perhaps because I think I will have to take the tripod with me and set that up. However, I found the green wheely bin worked well. Laziness always finds an efficient solution!
Anyway, on to the sewing. Last week I made these trousers out of cotton velveteen - or so Spotlight claims it to be. It washes beautifully with hardly a wrinkle, so maybe it has something else in it too. I purchased this on a clearance table - it was $24.99 per metre, but I paid $8.00 per metre - I think I had to buy a minimum of 3 metres or whatever was left on the roll to get this price. 2.9 metres later, and I had this piece of fabric in my bag.
The Make a Garment a Month theme for May is May Flowers. I was struggling with what to make, then I remembered this fabric. I thought it would make a lovely pair of trousers for cosying up in on a cold winter's day or night. In fact, I wish I had something like this for the weekend we recently spent in Sydney - a bitterly cold wind was blowing. We visited the Art Gallery, and these would be rather perfect for that sort of setting. Then we went for a casual meal out to celebrate my husband's birthday. Again, these would have been perfect with my little red coat and black beret. Casual but romantically dressy. And super comfy. With pockets.
I used my old faithful New Look 6216: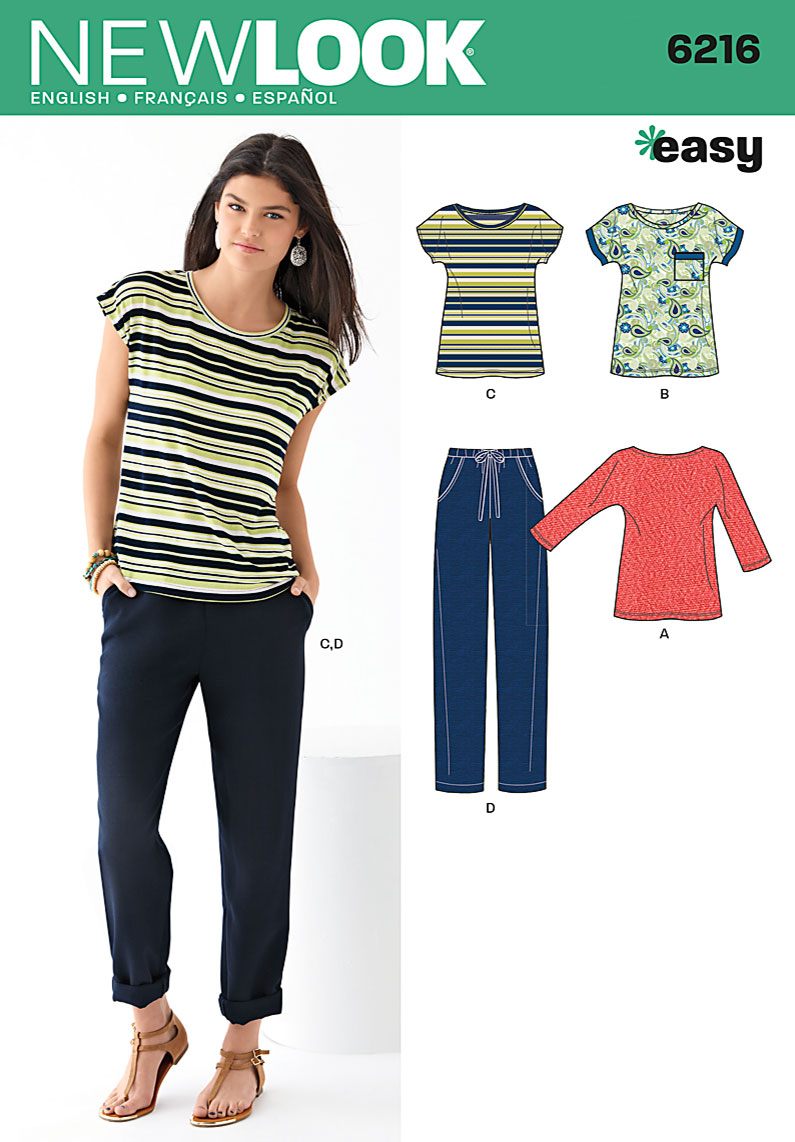 I have made this trouser pattern up lots of times now in all sorts of fabrics
(see all posts HERE).
I use size 8, and raise the rise at the front to side seam one inch. The back rise is raised two inches tapering to one inch at the side seam. I have a long rise and very short waist. I am also quite rectangular in shape, so I need trousers to be a little above the waist so they do not fall down. Not a good look without a top covering the mid section, but in blog photos I do not worry about this because I am showing you the garment. I omit the drawstring because that is not needed for a classic elastic waist pant - and I don't need a bulky knot over my tummy and tails hanging down. I also modified the pocket to a 2 piece pocket and used lightweight poly cotton for the pocket bag (the pattern has a fold over pocket made out of the fashion fabric - okay if you are using a cotton, but not a thicker fabric).
And of course, pockets. I topstitched these - and ditto the side seams in a faux flat fell seam. And hems echoed the look with two rows of stitching.
The pants look quite baggy and full in this soft fabric, but that does not worry me. Secret pyjamas! I will probably need to wear thermals under them in mid winter in any case. As far as I am concerned, they just look comfy and cosy - and you imagine them with a nice mohair handknit jumper over them! I should show you this worn over the pants one day. I think also I would use a slightly less bulky fabric for the worked in velveteen again- but don't these look nice all in the one fabric...
Anyway, quick pictures of the trousers - and doesn't the sun show up so much more than the flash.
I guess this gives you the general idea. I can't wait for a cold, wet, windy, horrible day so I can pull these on and enjoy them. A nice cup of tea, some sewing, and cosy secret pyjamas in soft floral velveteen. Oh, and black fluffy slippers. Looks like I am set for winter when it arrives.
That's it for today, I hope to be back with more sewing news next weekend.
Sarah Liz