These pants may be the confidence pants now, but I can assure you this is not how they started life early this week.
I was feeling very jaded and in need of a break, so decided to have a week off. I still managed to batch the accounts for the last month, attended to a few other work related matters, and went into the office yesterday afternoon! The joys of being a self employed couple.
Of course, I had delusions of sewing grandeur pertaining to all the things I was going to make. I started and ended the week with making these simple pants...the delusions have well and truly been put into their place!
I woke up on Tuesday with a corker of a headache, but this did not deter me from cutting out these trousers. Once again, I used New Look 6216: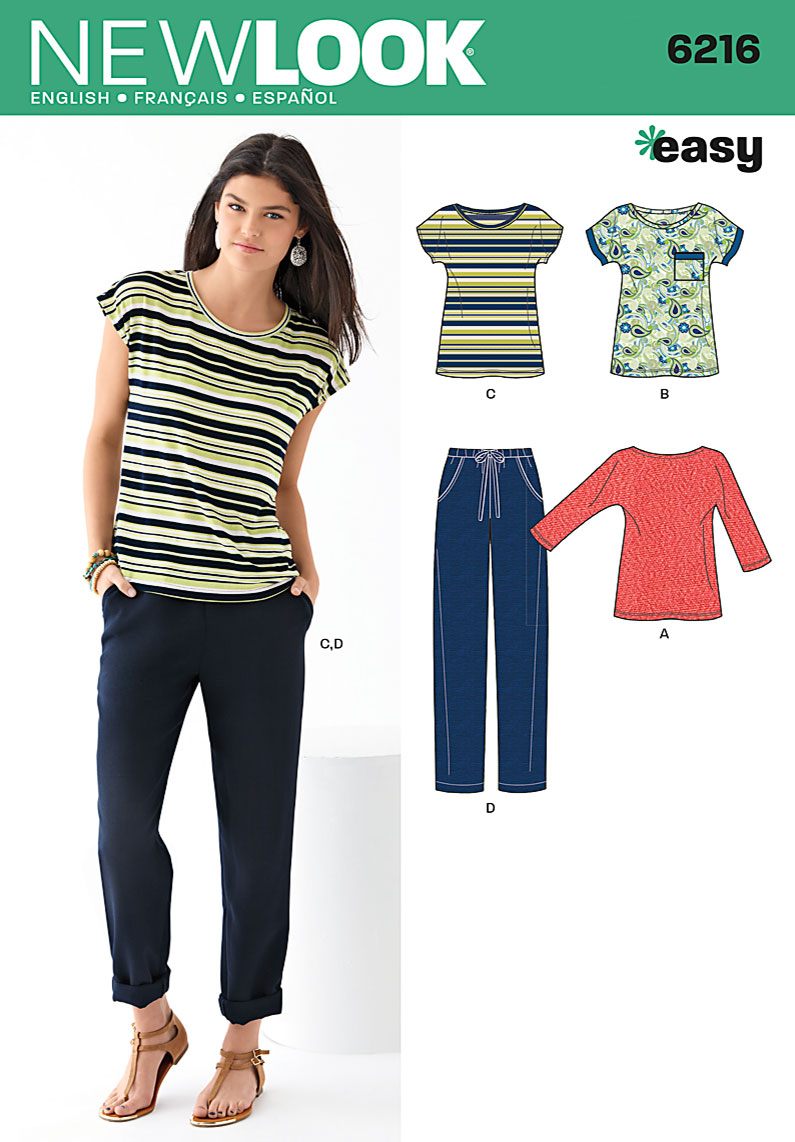 This pattern is designed for wovens, but I wanted to try them out in a stretch cotton sateen. I have a a pair of baggy stretch sateen trousers, which I have worn to death...they must now go firmly into the dirty jobs box. So I wanted a replacement pair, because sometimes you just want relaxed and comfortable, not fitted and constraining.
I have already made this pattern up in
wovens
, and last week I made it up in a
knit fabric.
(if you want to see them, you can click on the link on wovens, and knit fabric)
I had a remnant of houndstooth stretch cotton sateen, purchased from Spotlight. It was 1 metre in length, and 127 wide. Barely enough, but I know I can about cut a pair of trousers from this width if I take care, and if I can top and tail.
The side front was going to be a contrast, as was the waistband, because there is no way I would have got those out of the 1 metre. And I like the contrast effect. I used a stretch cotton sateen in black for these - out of my scrap box.
I happily topped and tailed, and then realised that the pattern had a nap. Duhh! I blamed my thumping headache, which to be sure was not helping. And I had checked before, and had not noticed the nap. I think this is because the pattern is so busy.
Then I realised I had not added the extra inch front rise grading to 2 inches back rise. I had not cut the front at this stage. I usually chalk the extra onto the fabric - I only have a note to do this on the pattern. Duhh, Duhh.
Decide to bin the project...
Okay, deep breath, take a tablet for the headache. Expectation effect at least might work on easing it.
Put on kettle, make a cup of coffee.
Decided I was not going to waste all that effort, and I questioned whether anyone would notice that the front and back legs had the pattern running in different directions.
I decided no, the fabric was so busy, that they would see only the overall effect.
Decided to cut a yoke piece for the back legs, and cut the front with the extra one inch added. I found another piece of cotton stretch sateen in the scrap box, a heavier weight than the side front and waistband, but it works well for the back yoke.
I also altered the pattern as the cotton sateen was too heavy for double backed pockets. I redrew the pocket piece into a separate side front and pocket bag piece. I used a white poly cotton for the pocket bag. I thought this would look better from the front, as a black lining may have shown through.
After the trousers were complete, the pockets bagged out a little too much for my liking, even though I had stayed the curved edge. So I did some very definite and slightly longer than normal bar tacks - and now the pockets do not pouch out and catch things.
Sewing was a bit of a trial. I had a stiff, sore back, which is not the best for sewing. Still, the distraction is good for soreness! So, I decided that perfection was not needed, and kept going, with a few wobbly seams. By now it was clear this was not a project in perfection!
And last night, after I had finished work, I spent the evening finishing them. It was a very good evening!
And, then I tried them on. I loved them straight away. I have no qualms now about putting my old sateen comfy pants in the clothes for chores box. And today I happily wore them, and three people waved me across the road. This is unheard of in Newcastle, so I think the eye catching and confident pattern did the trick...so now I call these my confidence pants!
The usual front, back and side views! I am wearing an undergarment here, not really a stylish look, but really, I want to show you the pants:
(the label on my underthingie is poking out...I did that last week as well...must watch for this in the future!).
That's it for this week. I am not sure what my next project will be, something simple, I think. Simple and comforting. I feel like that sort of garment at the moment. I'll go and see what the remnant box holds...
Until next week, take care everyone,
Sarah Liz