I seem to have become fascinated with making little bralettes at present. Bralettes are quite simple to make, unlike bras, which have underbust casings and underwires, and may well also have power bars and other bits and pieces in order to make them more supportive. Bralettes are a good way to ease into the process of sewing bras though because there is some shared territory - like applying elastic.
A few of you have commented that bra making seems so complicated, but if you start with simple bralette patterns you will start to get the feel of what is needed. Basically, fabric (bralettes often use a stretch fabric) and elastic. With lingerie sewing you always use a plush back elastic as it is softer on the skin. Fold over elastic is also used for edges.
Plush back elastic comes in various widths. Often the band elastic is wider than the front, arms, back area. Fold over elastic is often 5/8 of an inch unfolded. You may need a fastener for the back - these come in various widths, so check your pattern. And rings and sliders. I would suggest looking at a bra to see what these components are...it makes it simpler to visualise. And of course, thread, a good quality one, plus stretch needle (about 75/11).
This pattern is for a pullover style, so a back fastener is not needed. The pattern is
from OhhhLuLu and I purchased it from her Etsy shop.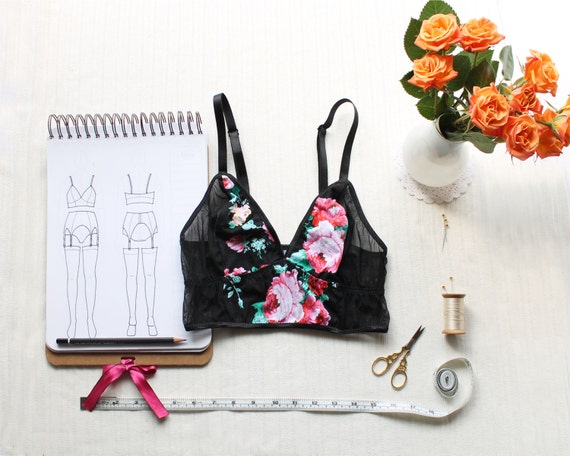 This is the second OhhhLuLu pattern I have used . I have made up the
Hyacinth Bralette
so was fairly confident about OhhhLuLu's sizing. I also checked the pattern pieces against another bra pattern that fits me reasonably well, and they were similar.
As with all new patterns a toile is always needed. I tend to make my first run in a cotton/lycra fabric I purchase from Spotlight. It's called Performance. It comes in white, grey and black. I tend to use black because the white is a bit see through - although with summer coming, I will probably start to use the white for my toiles. This way I can compare fit between different patterns.
I was a little concerned this pattern would not work, but I did what the instructions told me to do. I did have trouble at the V point of the lower band - I think the fabric was just too stretchy to easily sew this in a sharp point. Next time I will just stabilise the seam area before stitching. So I had to undo and redo and then I had to go over the seam because it was a bit wobbly! But I knew the underbust band elastic would hide my beginner's sins. It did. I also finished my seams differently - I flip and topstitch, and then trim back instead of zig zag finish or overlock finish. I think my method is just a little stronger if the seam takes a lot of tension.
I did think the finishing of the edges of the underbust elastic was a little underdone - just a zig zag bar tack to secure. I resorted to my dressmaking skills and overcast the cut edge of the elastic by handsewing.
As you can see from the photo above, the v point wants to sag. That is the area I want to stabilise next time before stitching. It may still sag, but the stitching will be easier.
I knew though that an embellishment would make things look good and it did:
The top and front edges of the bra are finished with fold over elastic. The underbust elastic runs under the cups and along the middle back seam line. I was a little worried this seam would be quite bulky, but it worked out. I think though that this fabric is perhaps a little on the thick side for this finish.
The bottom of the lower band is also finished with fold over elastic, but I could tell there was going to be a bit of an ugly area at the back where they would join, so I decided to use a picot edge plush elastic instead. This worked out well. There is a little bit of untidiness with my stitching the ends of the elastic at the back, but you don't see this from the outside. I will work out a way to do this neatly in due course. This was a method I read about in pantie making, but I think it needs refining so that it looks nice too. Of course, I am using a high contrast thread, which makes things much more obvious.
It looks fine from the outside though...and that is the main thing. And why did I use a contrast colour for this edge? I happened to be away and had taken a portable machine with me. I was working on a underthingie where I wanted to use white picot elastic. I had put the whole bag of it in my work tray. I didn't have any black edging, so used this! I also want to use this elastic up, as it is not a quality I like. So I use it on my toiles.
I moved the rings to the front of the bralette and secured them by folding the fold over elastic through them.
The back elastic is just secured, as far as I could work out, on the top edge. Next time I think I will secure it at the top edge and through the band elastic. There is just too much tension, I think, on the top of the fold over elastic.
And that's it. Done. I am wearing it today, and it is quite comfortable, although I think the side of the upper side cup is a little loose. I'll tweak this next time I make the pattern up.
Once again, this is the Sarah LongLine Bralette from OhhhLuLu.
Take care everyone, and bye for now,
Sarah Liz