Drape Front Knit Top: Simplicity 1716
This week I started recovering from my sinus problems and managed this simple top and also managed to work and do all my chores. I even finished the quarterly tax statement for DH's practice yesterday evening - I had the lightbulb moment idea of taking my dinner and working on in the evening. So I had this morning free to cut something out!
But that is a digression. Today I am going to show you my version of the very popular top by Simplicity patterns: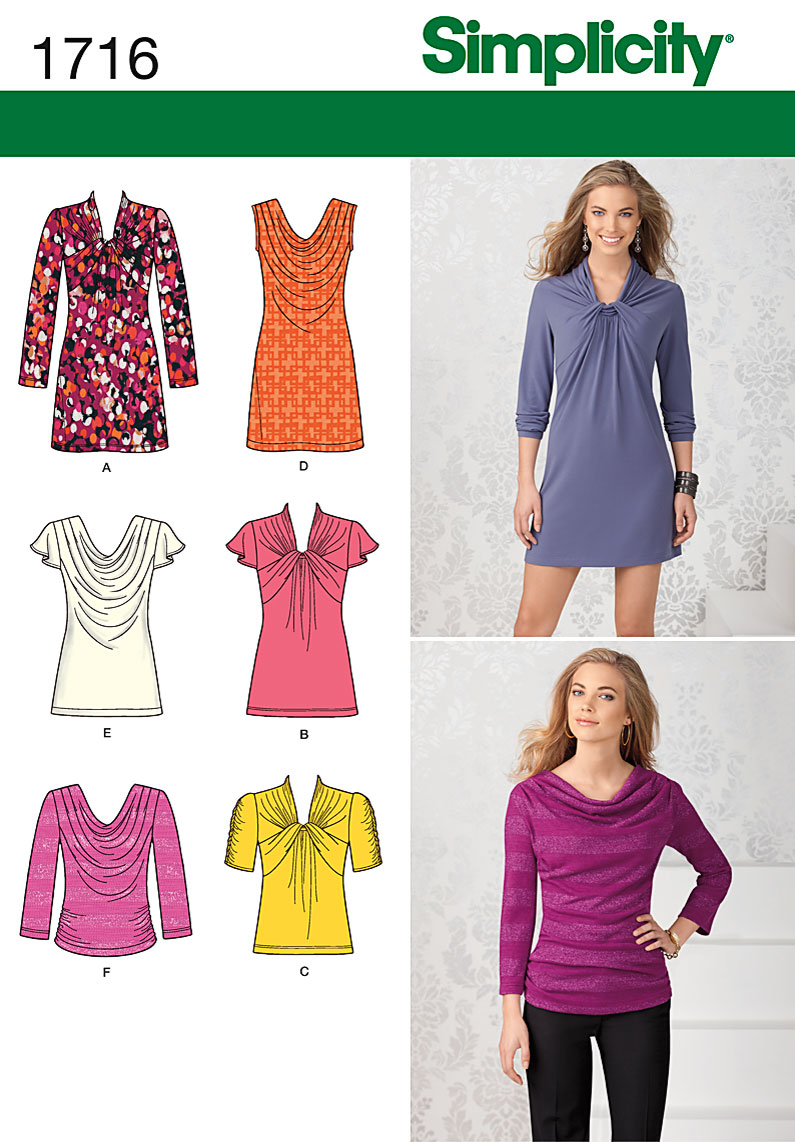 I decided to make version F without the gathers. I thought the gathers along with the draped neckline cowl would just swamp my straight frame.
It has been on my to do list for a couple of years now. And then when I realised I had the perfect fabric, it was a match made in sewing heaven.
The fabric I used was a cotton/lycra mix. It was a black and white fabric I found on Spotlight's clearance table, and it was $5.00 per metre, down from $24.99 per metre. I bought a few metres, but noticed at home that the dye job was a bit streaky and patchy and generally washed out looking. It looked even worse after washing, so I overdyed a nice blue colour. This has given a blue wash to the patchy looking colour and dyed the white bits blue. It looked a lot nicer, and gave rise to the idea of making this top.
I was not sure what size to cut as all finished measurements were generous, so this was obviously not designed to be close fitting. Also, I have never made anything like this before, so was unsure of how it was supposed to fit and look. In the end, I settled on size 10 and graded out to 12 at the waist which was quite indented on the pattern pieces. I did not make any other alterations - this is as much as anything a toile.
I did stabilise the back neckline, although this was not suggested by the pattern. I think it was just as well I did because the neckline is already quite large, and if it had stretched out it would not have been wearable on me. The interfacing I used for stabilising was covered later by the binding, and does not show at all. Sewing into the shoulder seam was a bit tricky - as was working out how and when to overlock the shoulder seam, but this was the final result:
I also left the pleats at the shoulder unstitched as I did not think a stretchy cotton/lycra would sit nicely - I thought it would pull at the stitches too much. So my pleats are loose:
When I finally put the finished top, sans hems on me, it was very long and was going to give me a very unflattering visual look - top and bottom equal amounts. So I shortened it by 2 3/4 inch. Hem allowance remained at 1 1/4 inch. I did not hem the sleeve at 1 1/4 inch as I felt it was just a bit short and so I hemmed that at about 3/4 inch. I probably could have left another half an inch on the bottom. I used my coverstitch machine to complete the hems:
It was all rather hard work for my still woozy head, but I managed by doing a step or two a day.
I will close with a few photos. I have decided not to worry too much about photo quality - I can't do everything in life, and it is just too much pressure and time to try and do perfect pictures - after all, this is just an everyday sewing blog, not a professional publication. I am just an ordinary sewer talking to other ordinary sewers and making a few friends along the way. I have to use a self timer so pictures are never quite in focus. And, I can't see what I have taken until I load them onto the computer. Many are just plain useless , and in some I just look stern - I have included one of these at the bottom of the following frieze so you can have a chuckle:
Overall, I feel rather swamped by all the draping, and I feel bare around the neck. I think if I made this again I would change the armhole to size 8 min and maybe size 6 or smaller so that the drape and neckline sat into my neck more. While I like the top and it will be a nice addition to my wardrobe for those occasions that need a comfortable but slightly dressier top, I do wonder if maybe this top would work better on a curvier sort of shape. It would help to lift and fill the top, which it really needs. You can see from the side view photo that there is a lot of fullness in the front, but a curvier bust and torso would wear this beautifully.
I do think I would like this top as a little jumper in a soft lightweight wool as a layering piece over a t shirt - and the size 10 would probably work for that nicely. That way I could have the nice drape with a higher neckline underneath and get the best of both worlds!
Will I make this again? Yes, I think it is a pretty little top and I think using a smaller neckline would eliminate some of the draping down the front. So, this is definitely on my to do list again.
That's it for the sewing side of things.
As far as our conversation about social media is concerned, it seems I am not the only one that is a little overwhelmed. The constant flow of images is actually hard work for the brain as it tries to take it all in and process it. And it becomes hard work keeping up...it was becoming work, not fun. So now I will just post my makes and plans. I feel much more relaxed now that Instagram is taking a back seat in my life. I am glad I am not the only one who feels the same way.
In due course I will get back to replying to your comments. But at the moment I am still very busy in real life so can only really manage to write a post. But I know from your comments that you do read my posts and you do enjoy them. That's lovely! I hope I can keep writing posts that you enjoy.
Until the next post, take care,
Sarah Liz x