Underneath it All...
This is so far a funny year. I am still recovering from my rheumatoid flare - or rather, I think I have recovered, do a few things and then relapse! Still, I am managing to keep domestic order and am doing practice work but then run out of steam for my own paperwork and for sewing.
I also had a run in with a bout of depression and anxiety, but I suspect that was related to the flare. That certainly interferes with the concentration and cognitive elements of sewing. To say nothing of motivation.
I have managed to make a few things, which will be blogged over time. My blog is now very behind my sewing.
So I have decided not to worry about what is not blogged, and just concentrate on blogging things that are happening now.
I have taken pictures of all the garments I want to back blog - and they are not very good. I tried a variety of positions in the house, different lights, outside photos and so on. None are brilliant. But I have learnt a few things!
So I am splitting my blog into two parts - Part 1 from now, Part 2 back blogs.
Today I will share with you my recent make - just finished today:
The pattern I used was "The Makers Journal"Tried and True everyday knickers for woven fabrics: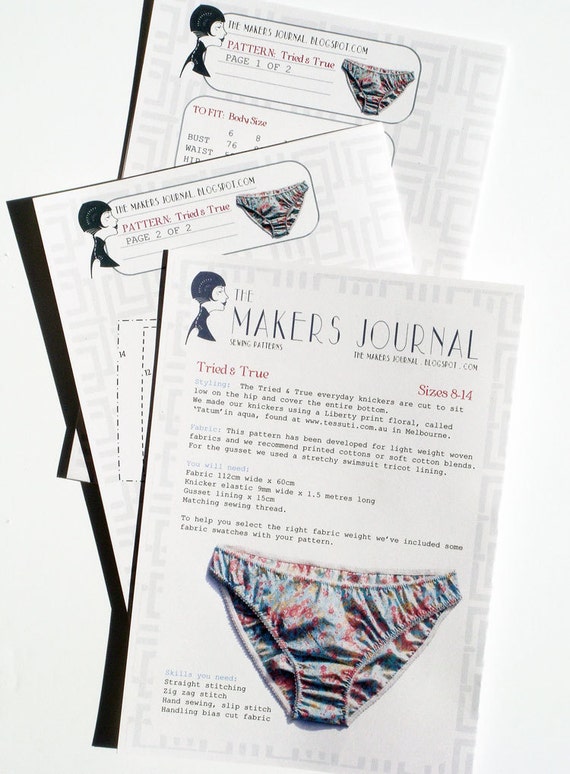 The pattern can be found at
https://www.etsy.com/au/listing/568476661/cute-full-bottom-knicker-sewing-pattern?ref=shop_home_active_1
.
I have had this pattern in my stash for about 5 years now. Time, I thought, to try it. I used a piece of cotton voile. The knickers are cut on the bias to allow some ease and give.
I measured size 8 but these would not have had much ease. I settled for size 10 because I would rather something be wearable even if a little large, than too small. These are after all the trial pant, and I have never made anything like this before, so I have no idea what to do or expect. In that situation you jump in with low expectations.
I did raise the waistline about 2.5cms as I thought the low rise was too low for me.
I did find working out the elastic length a little tricky. The pattern suggest 2/3 of the length of the opening, but that was going to be too tight around my tummy. I settled on about 4-5 inches less than my tummy - I have a book which suggests about this, I think. As it so happens, the waist elastic is a little large, but the knicker is quite wearable under my nightie - I like a little something to put on under my nightie when I get up in the morning. You sort of feel a little naked otherwise, and I do potter for a while when I get up.
And, if I find the elastic is too loose over time, I can chop it off and apply a shorter length.
One advantage to having raised the rise...
And for the legs, I measured the elastic on a pair of my RTW pants.
EDITED: On wearing these, I found the fit fantastic and both waist and leg elastic about right.
One feature I did not like was the loose crotch piece. It's sewn into the back, but left loose at the front. I decided to zig-zag that down:
Edging elastic was a 1 cm plush picot edge facing elastic. It was one of my original purchases, and has been used for all my trial undies. It was not brilliant quality, but it was cheap. Brilliant for a novice to play around with...because, lets face it, learning how to sew new garments is not always cheap...things don't work out the first time around usually.
I used a 3 step zig zag to finish the elastic. It's a two step process, zig zag elastic on, fold over, and 3 step zig zag down. Or zig zag if you don't have a 3 step zig zag stitch:
I will wear these for a while to see how they fit, and then perhaps one day work towards making these again. I think they are really pretty:
*****
Over time I have also made a few camisoles, out of lawn, silk pongee and gauze respectively. I had a number of transparent cotton tops that I had never worn. Mostly because I didn't really want to make little camisoles...or never at that point in time.
So, in the end I got on with it. The pattern is one I found on Etsy. I can't remember what it was, but I do remember not being able to easily download it. It also did not have seam allowances marked, and I had to fiddle my way through two toiles to get something about right for me. There are still modifications needed...I think next time I will lower the underarm area. Still, these are okay and they work.
And finally, I made a little slip. I had already made a lining to go into a skirt that never happened, so I just decided to put a waistband on that.
Certainly not stellar sewing, but then my muscles were extremely sore and fatigued (that's part of the flare). It's hard to sew when your muscles are very sore:
So, I have now started to learn how to make my own Underneath it All's. This had been on my goal list for years.
I think that is quite enough for one post, so I shall say Goodbye now, Until Next Time.
Sarah Liz